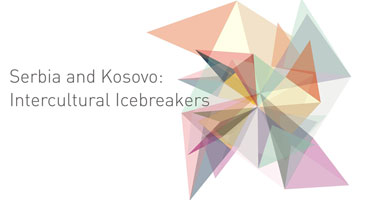 Call for Applications "Serbia and Kosovo: Intercultural Icebreakers"
October 23-31, 2017
Since 2015, the Helsinki Committee for Human Rights in Serbia has organized six seminars for young artists from Serbia and Kosovo on the topic of interculturalism and socially engaged art practices. Encouraged by the success of these seminars, we are now preparing another study tour from October 23 - 31, 2017, for 16 young people
(8 from Kosovo and 8 from Serbia). As in the past, we are targeting
young people from Serbia and Kosovo who are active and/or
interested in arts, culture and media to participate in this project. The seminar will start in Belgrade featuring lectures, visits...
... >>>
"Serbia and Kosovo: Intercultural Icebreakers" Program at Sarajevo Film Festival

August 14, 2017

Helsinki Committee's "Serbia and Kosovo: Intercultural Icebreakers" Program will be presented at the Dealing with the Past and True Stories Market at Sarajevo Film Festival. The Sarajevo Film Festival continues to provide a platform to help shed light on the consequences of the wars in the former Yugoslavia, and for using film
to bring important stories related to these events to wider audiences. The aim of the Dealing with the Past and True Stories Market projects is to increase awareness...

... >>>

Helsinki Committee for Human
Rights in Serbia is proud to present
you a short film "Q&A"! * 2017 -
Short Film - 11.26 mins

The film was made within our Serbia and Kosovo: Intercultural Icebreakers program. This short animated film is a result of cooperation between young artists from two post-conflict societies, Kosovo and Serbia. It represents three stories inspired by the challenges young people from both...

... >>>