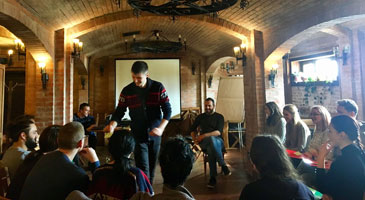 Art Colony "Serbia and Kosovo: Intercultural
Icebreakers"
March 6-10, 2017, Vrdnik, Serbia
The Helsinki Committee for Human Rights in Serbia has organized
the art colony within "Serbia and Kosovo: Intercultural Icebreakers" program on March 6-10, 2017. Sixteen young artists from Kosovo and Serbia, working or studying in the fields of culture and arts, spent a creative week together in Vrdnik, Serbia making a stop-motion movie. Prior to the colony, these young artists have participated in a ten days long study tour, during which they attended various lectures,
workshops, visited cultural institutions and organizations, enjoyed cultural and artistic events in Belgrade, Novi Sad, Prishtina...
... >>>
Video, 7 min, June 2016.

Moving pictures give an insight into the process of unpacking the stereotypical performance in the encounter of young artists from Kosovo and Serbia and their construction of ideas on culture of the "Other". Experiences that are experienced in lectures and
workshops during visits to cultural institutions and in the process of creating the installations, enabled artists to review the images we have of each other, the cultures from which they come from. Installations that have resulted in these situations simulate some of the processes in post-conflict communities and lead to...

... >>>

Suri Atilla, Edin Alija,
Video, 4'30'', June 2016.

The desire to learn words from the language of the "Other" culture is conditioned by the image and beliefs about the culture and representatives
of the culture the language belongs to, not just when you see or hear him. The words we see on bilingual signs in many cities, or hear, are triggers of images that we carry on the culture they indicate and emotions...

... >>>