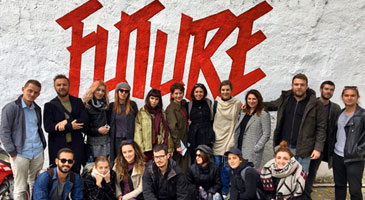 Seminar "Serbia and Kosovo: Intercultural Icebreakers"
Belgrade, Novi Sad, Prishtina, and Prizren, October 23-31, 2017
The Helsinki Committee for Human Rights in Serbia has organized
the seventh study tour within "Serbia and Kosovo: Intercultural Icebreakers" program on October 23-31, 2017. Young people from Kosovo and Serbia, active and interested in culture and arts, spent
ten creative and working days in Belgrade, Novi Sad, Prishtina and Prizren, making friends and exchanging experiences and knowledge about their societies and cultures. Participants in the seminar had an opportunity to listen to lectures by prominent authorities in arts and culture. A writer Sasa Ilic delivered a lecture on "Literature...
... >>>
Call for Applications
"Serbia and Kosovo:
Intercultural Icebreakers"

October 23-31, 2017

Since 2015, the Helsinki Committee
for Human Rights in Serbia has organized six seminars for young
artists from Serbia and Kosovo on the topic of interculturalism and socially engaged art practices. Encouraged by the success of these seminars, we
are now preparing another study tour from October 23 - 31, 2017, for 16 young people (8 from Kosovo and 8 from Serbia). As in the past, we are targeting young people from Serbia
and Kosovo who are active and/or interested in arts, culture and media to participate in this project. The seminar will start in Belgrade...

... >>>