Suri Atilla, Edin Alija,
Video, 4'30'', June 2016.
The desire to learn words from the language of the "Other" culture is conditioned by the image and beliefs about the culture and representatives
of the culture the language belongs to, not just when you see or hear him. The words we see on bilingual signs in many cities, or hear, are triggers of images that we carry on the culture they indicate and emotions which
these images trigger in us. Meeting
with the words of a culture which is invisible to us or negatively
stereotypically shown in us do...
... >>>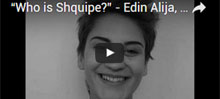 Edin Alija, Suri Atilla,
Video, 6'10'', June 2016.
How can name or surname mark us and classify us in the image of the "Other", changing the attitude of others towards us? The old Latin saying "Nomen est nomen" ("Your name is your value"), indicated the tradition of naming based on belief that the name is personal mark of a man and...
... >>>