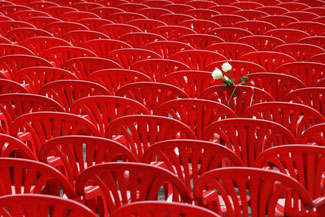 The Helsinki Committee for Human Rights in Serbia took 110 students, young people and activists to the ceremony "Dusko Kondor" in Sarajevo on April 6, 2012. The great majority of young people from Belgrade, Novi Sad, Zrenjanin, Krusevac, Sabac and other towns in Serbia had the opportunity to visit the capital of Bosnia-Herzegovina for the first time ever.
The ceremony "Dusko Kondor" Sarajevo-based GARIWO NGO organizes each April 6 to mark the Sarajevo Day is also an occasion to recognize humanity and civic courage individuals have demonstrated in hard times. This year laureates were Nedeljko /Nedjo/ Galic from Ljubusko (posthumous), Matija Stevic from Brcko and Budimir /Budo/ Koprivica from Mostar.
The award for affirmation of civic courage was bestowed on Viktor Ivancic, journalist from Split, Croatia. On the 20th anniversary of the siege of Sarajevo a special, collective award went to citizens "who lived and died, and were killed in Sarajevo during the siege of the town from April 6, 1992 till February 29, 1996."
Young people from Serbia also had the opportunity to attend a number of manifestations marking two decades since the onset of the siege. "Red Line" or 11,541 red chairs placed along Tito Street to symbolize the killed citizens of Sarajevo left the strongest impression on them. "That was a painful experience indeed, especially seeing all those tiny chairs symbolizing killed children. A long line of chairs. We felt heartache when we reached the end of the line at the Eternal Flame and read the inscription. What a contrast," said Asja, activists of the Helsinki Committee.
Asked what impressed her the most in Sarajevo, Dunja, secondary school student from Belgrade, replied, "People fascinated me the most. They did not react the way we did. They are facing all this every single day. And all of them must have lost someone dear."